The Student Air Traffic Control Association
By Danielle Cirimello

http://www.nj.com/news/index.ssf/2009/02/controller_of_us_airways_fligh.html
The Student Air Traffic Control Association is thrilled to announce that Patrick Harten will be coming to Dowling College to speak about his experiences as a LaGuardia air traffic controller. Mr. Harten is known to the world as the air traffic controller that was talking to Captain Chesley Sullenberger when he stated he was putting Flight 1549 down in the Hudson. Working New York Departure from New York TRACON, Mr. Harten displayed his competence as he looked to provide Captain Sullenberger with the options he needed to safely get his Airbus A320 on the ground after suffering a double bird-strike. As students, we admire his abilities and skills. On November 17, 2011 at 7:00 p.m., he will speak to Dowling College students in room B201 at the Brookhaven Campus. SATCA invites all students to learn from his experience and listen to his story, for he is an example of an air traffic controller that many aspire to become. For any questions regarding this event, feel free to contact Danielle Cirimello, president of the Student Air Traffic Control Association, at dxc105@Dowling.edu. SATCA hopes to see you there!
(:commentbox:)
By Brianne J. Karten

The Science Exploration Club is in full swing as the middle of the semester has been reached. After trips to the Bronx Zoo and Fright Fest at Six Flags, the club is looking forward to spring trips to the New York Aquarium at Coney Island and the Great Raptor Trust in Ramapo, New Jersey. The SEC is a club for any biology, chemistry, physics, marine science, earth science, math, and pre-professional health majors and minors, as well as those just curious about how the world works. The organization has some events throughout the year specifically for science major career building, as well as others that the whole student body can enjoy. Monthly meetings will cover current events as well as students' academic lives. (It doesn't look too bad on your resume, either!) Club officer positions are available. For more information on the trip or club, visit the SGA ticket sales table in Racanelli Center or e-mail Brianne Karten at bjk4@Dowling.edu.
(:commentbox:)
By Brianne J. Karten

"
The Dowling Equestrian Team is off to a great start! The group has kicked off the semester with third and fourth place team finishes in our region at shows hosted by St. Joseph's College and Columbia University. With a few new members and old faces returning, the team is excited for a very successful year! Dowling Equestrian Team is always looking for new members. Any level of experience is acceptable, as long as applicants are full-time undergraduate students. Many practice times are available to suit all schedules. The captain can be contacted at LEF3@Dowling.edu, and the Dowling Equestrian Team Facebook page can provide further information.
(:commentbox:)
The Dowling College GSA Celebrates Transgendered Pride with Ryan Cassata
By Melissa A. Theodorakatos

The term transgender is one of the most misunderstood terms of the LGBTQ spectrum. Many individuals are unaware of the true meaning of the term, creating a lot of prejudice statements that are hurtful to this portion of the community. In order to ensure equal opportunity to the transgender community, many activists have made it their mission to educate the world on this specific sexual orientation. Within the Long Island Community, Ryan Cassata is one of the most well-known transgender rights activists that participate in lectures and events that aim to educate the community further on these issues. The Dowling College GSA is fortunate enough to host an awareness lecture with Ryan during Transgender Awareness Month, taking place throughout November.
Ryan Cassata is a transgender singer-songwriter that has built his entire activist and musical career at a very early age. By the time he was 17-years-old, Ryan had released two solo records, booked multiple tours, performed at one of the largest homosexual music festivals, and spoke to dozens of schools and organizations about the transgender community. He founded his own recording company, Artemendous Records, LLC, as well as the Artemendous Radio Station, where he broadcasts worldwide. He has been featured on a variety of talk and radio shows to promote both his music and his cause, bringing awareness to the LGBTQ community every day. His lyrics are both inspiring and educational, opening up the mind of the spectator the world of a transgender individual and evoking an emotional response. Ryan is a reminder to everyone that change is possible, with the right amount of dedication and persistence. For more information on Ryan, visit his website at www.ryancassatamusic.com.
The Dowling College GSA hopes that you will join us during our transgender awareness month lecture that will take place on November 16 from 6–10pm in the Lion's Den. The club will be providing a small dinner for attendees from 6–7pm in a traditional family style. Ryan will then begin his lecture at 7pm, which will include both his own personal information and supporting audio-video materials. He will open up a question and answer session for the group allowing everyone to become involved in the informational session. At 8pm, Ryan will then be performing a small acoustic concert for the group of his original music. We hope to see you there! For more information, contact president Melissa Theodorakatos at mat9@dowling.edu.
(:commentbox:)
By Michael Perez

"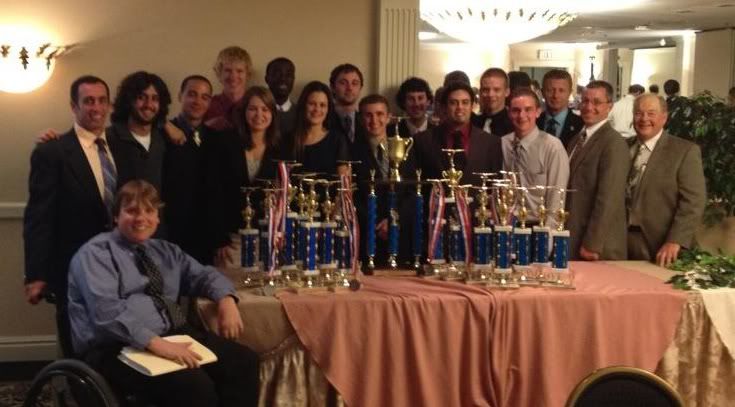 The Dowling College Precision Flight team is probably one of Dowling's best well-kept secrets. Not all of our students know about what we really do. Dowling has many impressive sport teams, but our flight team has had one of the most impressive histories of them all. Even our new president, Dr. Jeremy D. Brown, referred to our flight team as "Dowling's most 'winningest' team." We sure did prove him right all throughout this weekend during the NIFA SAFECON 2011 hosted by yours truly, Dowling College. We went up against several tough competitors which included Delaware State, Schenectady Community College, Bridgewater State University, USMA West Point, and Rensselaer Polytechnic Institute. The competition consisted of four flight events and five ground events and our teams staggering presence was felt in every single one. After four days of events, our anxiousness reached its pinnacle as we sat at our table waiting to find out the results.
However, our anxiousness quickly turned into celebration when we heard our names called out one after the other. Never before have the words "Dowling College" been repeated so many times. We walked away with six out of the nine first place trophies for each event, as well as a bountiful amount of trophies and medals ranging from second place to fifth. Each team member received at least one award. In the matter of minutes our table overflowed with glorious trophies. Our jaws really dropped, however, as the judges handed team member Jon Curley a towering trophy for the Safety Award. NIFA SAFECON cannot stress the importance of safety any more than they do, making this award the most honorable and significant of them all. It also indicates what kind of students come out of Dowling College. That is exactly what everyone in that room saw as we received the three final trophies for Ground, Flight, and Overall score which got us an invitation to the nationals. This year makes it our third year in a row of taking home the first place trophy.
Last, but not least, the Top Pilot award went to none other than our fearless team Captain, Andrew Bush. The top pilot award is the most prestigious award in the event. It is given to the Pilot who does the best overall in several events, and this year it was definitely put in the right hands. Congratulations to Andrew, Dan, Engjell, Jillian, Jon, Kelvin, Kim, Matt, Michael G., Rich, and Scott for all your success. Many thanks to our coaches Captain Jerry Stonebridge, Captain Bruce Trimble, Coach Jim Record, and Professor Ron Lindenfeld as well as Professor Tom Daly, Dowling Alumni, and all of our supporters for all the guidance and opportunity you all have bestowed on us. Thank You.
(:commentbox:)
History Club of Dowling College Bridges the Intergenerational Gap of Student and Veteran
By Jennifer Siebert

http://www.heidisheavenlycookies.com/blog/2010/11/veterans-day/
A group of Dowling College students, working for the History Club run by President Meg Pascal, have initiated two events for the Fall 2011 semester designed to bridge the intergenerational gap between young college students, nursing home patients, and veterans.
History Club President Meg Pascal had made the decision that instead of celebrating the German tradition of Oktoberfest and the American Veteran's Day with only other students at the college as in previous years, this year veterans and residents from both the Massapequa and East Northport Bristol nursing homes were invited to attend. Both Bristal's had accepted the invitations.
Meg Pascal has also been working for the Massapequa Bristal with Alzheimer's patients. Her role there includes coordinating activities for the residents, ranging from therapeutic programs to social events. Her idea for these engagements was to coordinate the college life with the older generation for more of an historical atmosphere. "As a community of young learners, we can only look up to those who carry more knowledge than we have," said Miss. Pascal.
At the first celebration, which was Oktoberfest at Dowling College on October 5, 2011 at 2:30pm in the Conservatory, all of the key German traditional entrées and desserts were included. All catering was done by Plattdeustche Catering. Additional entertainment at this event included traditional music and games run by entertainer John Webber. Several History Club members, including Patrick Testa and Jose Talavera and others had volunteered to help set up the event. This facilitated an engaging and fun environment in which both students and residents were able to mingle and learn more about each other. "The intergenerational gap was bridged, and everyone had a great time," said President Meg Pascal.
At the second celebration, once again the intergenerational gap will be bridged. On November 9, students and residents from both Massapequa and East Northport Bristal's will be able to attend. The celebration will be in honor of Veteran's Day. War veterans that were residents in the Bristol will be able to speak about their experiences defending the country.
A meeting of the History Club and all of its members had been arranged to prepare for both events. The next History Club meeting will be on November 2 in the Hunt Room on Dowling College's Rudolph Campus to finalize details for the Veterans Day Event.
(:commentbox:)
Council for Exceptional Children: Exceptional Dogs for Exceptional People
By Peter Rice

Imagine not being able to open a door. Answer the phone. Hear a fire alarm. Or even pick up a wallet after it has fallen. How would you feel? Think what it would be like to feel the stares of others when in public and isolation when alone. Those of us who are lucky enough to only imagine these difficulties can barely begin to understand the daily challenges that many individuals with disabilities face every day.
Independence is a gift, and it must be fought for and defended. But what happens when we are jailed within our own limitations? How can we break free? There are many answers to these questions, but the one that wags its tail and licks your face is a pretty good one.
Assistance dogs bring more than just your slippers and newspapers in the morning. They bring independence, as well. Enhancing the lives of people with disabilities, these dogs are prepared to take on an array of challenges with an unyielding devotion. Specializing for specific needs, assistance dogs wear many hats. As a service dog, their job is to help people with physical disabilities by performing daily tasks that many take for granted. When slipping into their skilled companion role, they enhance the independence for children and adults with developmental, physical, and cognitive disabilities. Rolling over into another role, hearing dogs spring into action to alert the deaf and hard of hearing about important sounds. They can even shake your hand as facility dogs working with professionals in visitation, education, or healthcare settings. In all, assistance dogs can be many things, but perhaps there greatest job is just being a loyal friend.
On Tuesday, October 11, the Council for Exceptional Children invited Lauren, a former Dowling student, to speak on behalf of assistance dogs. Through personal stories, she explained how Max, her dog, improved the quality of her life by offering security, independence, and daily companionship.
Discussing her time as a student teacher, Lauren admitted that even though her dog helped her feel more accepted and approachable, she has faced individuals who question her abilities and the appropriateness of having a dog with you at all times. To offer an example on this point, she recalled a moment in her student teaching experience when parents with children allergic to dogs worried about possible healthcare concerns that having a dog in the school building could have. In response, the school bought an expensive dehumidifier and placed it in her classroom. She was fine with this, but was understandably baffled by the same school's resistance to purchase classroom items that she had requested.
Pressing on, Lauren advocates for increasing awareness and acceptance of assistance dogs, because she understands the huge difference that they make in people's daily lives. Before she had Max, she remembered the looks of confused curiosity people gave as they walked by without ever stopping to get to know her or even to answer a few of their questions about her disability. With Max in the picture, however, all this changed. Now people feel comfortable enough to approach Lauren, and in the process, they initiate conversations and interactions that open the door for them to see the person behind the disability.
Yet, how do these dogs perform such amazing feats? Sitting, lying down, and giving you a paw are simple enough behaviors to teach a dog, but getting a phone and giving it to a specific person in the room is just unheard of. But it is possible. Lauren explained that it all begins with little puppies of the right breed and a good supply of treats for training. Usually Labrador retrievers, golden retrievers, or a cross between the two are commonly selected to be canine companions for individuals with disabilities. Starting right from birth, volunteer breeder caretakers nurture these puppies for eight weeks until they are old enough to begin their training. Scampering around for the next eight weeks to 18 months, these puppies work with volunteer puppy raisers who teach basic obedience training and socialization skills. When the dogs begin entering adulthood, professional instructors step in to teach individual dogs to master over 40 commands in a six to nine month period. If the temperament and responsiveness are up to standards, they are qualified to continue their training and be matched with an adult or child in need of assistance. They can even be used by professionals assisting people with disabilities. It is in this way that little floppy puppies graduate into canine companions for independence.
With a cold noise and warm heart, assistance dogs transform the lives of people in many ways. They can be the eyes, ears, legs, and hands for their human partners. They can also be their goodwill ambassador and friend. They are not judgmental and spread only joy. They are simply exceptional dogs for exceptional people.
If you are interested in learning more about how you can get involved with assistance dogs, just visit Canine Companions for Independence at www.cii.org. But a big thank you should go out to Lauren who did a great job spreading her message at the Council for Exceptional Children's last meaning on October 11, 2011.
The Dowling College chapter of the Council for Exceptional Children is dedicated to providing events and guest speakers, such as Lauren, that enrich student's professional development. In November, students can look forward to the CECs third meeting on Tuesday, November 8th at 5:30 pm in the Hunt Room. Once there, students will be treated to another guest speaker, a former Dowling College student, who will talk about the realities and prejudices about inclusion classroom settings from around the world. Whether at this meeting, or anytime you are able to, it would be appreciated if you could bring in school supply donations by at least November 11th for an underprivileged school. Anything from pens, pencils, notebooks, folders and so on are welcomed. The CEC would also like to welcome you to participate in the Polar Plunge on Saturday November 19th. If you are interested in going, head on down to the student parking lot at 9am, and they will take you there. If you are unable to attend, but would still like to show you support, you may pledge a cash donation to Kaitlyn Bozzello, president of the CEC, who is trying to raise $500 to support Special Olympics New York Incorporated.
All in all, you are always welcome to stop by a meeting or take part in any event by the CEC, but if you would like to learn more about what else the Council for Exceptional Children can offer you, just ask Kaitlyn Bozzello by sending an e-mail to kxb63@dowling.edu.
(:commentbox:)
Annual AAAE Trip to JFK International Airport
By Rowland E. George III

"
On October 7, 2011, Dowling College faculty and students embarked on an exciting trip to JFK International Airport organized by the American Association of Airport Executives. The day featured tours of the control tower, Terminal 4, as well as the ramp area on which aircraft operations were taking place. Greeting the visitors were two former air traffic controllers, whose experience had spanned the past two decades, a period which has overseen some of the most significant events in the aviation industry. Together, they lent their knowledge to teach students the fundamental basics of air traffic control and the issues faced by controllers on a daily basis. After looking over the airport from its 320 ft tower, students were greeted by Robert Pyrka, a Dowling alumnus who supervises operations of the international terminal. Leading the visitors throughout the terminal, Pyrka discussed the future of Terminal 4 and the ongoing construction that will expand the terminal providing nine additional gates, as well as baggage and security spaces. The highlight of the trip was a ride around the ramp area on which aircraft were arriving and departing. Students got a close up view of commercial aircraft including the Airbus A380, the largest passenger airliner in the world. Overall, the trip was a success and provided students with a glimpse of what the future holds for those enrolled in the School of Aviation. AAAE would like to extend a special thanks to Maryann Compagno, Linda Koplinka, and the Student Government Association for making this trip possible. Students interested in attending exciting trips like this one should join the AAAE, which is having their next meeting on October 26, 2011. President Rowland George can be contacted at reg2@Dowling.edu.
(:commentbox:)
By Peter Luckel

http://www.getinvolved.purdue.edu/organization/alphaetarho
Alpha Eta Rho (AHP) has more than doubled in size since last semester, with over twenty active members. This semester, AHP is taking on 16 pledges and is looking forward to having all of them become full members at the end of the Fall semester. Last semester, AHP was involved in helping the school clean up campus for an open house, collecting a half dozen contractor bags of garbage from parking lots and wood lines. AHP plans to do the same, if not more, in time for this semester's open houses. The fraternity is also making plans to volunteer for the Spooky Walk in Center Moriches. Members and pledges will set up a crashed airplane display and scare spooky walkers to help raise money for children with needs. Alpha Eta Rho also has some other activities that are being organized at this time, but the club will keep students informed throughout the semester. Those interested may contact Peter Luckel at pml4@Dowling.edu.
(:commentbox:)
Student Air Traffic Control Association
By Danielle Cirimello

"
We would like to extend our welcome aboard for our flight leaving from Brookhaven Airport. Weather forecasts predict clear skies, good grades, and a chance of some fun! The Student Air Traffic Control Association (SATCA) has the most outstanding, best in the business cabin crew.
Now that we have embarked on our flight throughout the fall semester our pilots Professor Daly, Professor Donofrio, Professor Lindenfeld, and Professor Cushing, provide us with the utmost knowledge required for this semester's flight! However, we could not do it without the help of our flight attendants Linda Koplinka, Jane Bertsch-Wells, and Dori Byan, who support us as passengers every step of the way. The cabin crew team is there to correct our heading to ensure we maintain our course towards success because ultimately they want to see us succeed as much as we do.
Student Air Traffic Control Association is eager to deliver news of future events to local Air Traffic Control Towers and other trips coming soon. For any specific questions, meeting times, or additional information regarding SATCA, contact Danielle Cirimello at dxc105@dowling.edu. We are each other's co-pilots, striving for success together!
(:commentbox:)
---
By Stephen F. Sullivan

The Dowling College GSA will recognize National Coming Out Day on October 11th. The awareness day is recognized across the globe, with a focus on the lives of LGBT people and their hardships, stories, and celebrations of disclosing their sexual orientation or gender identity to the public. The first-ever National Coming Out Day was in 1988, and the specific October date was chosen as a remembrance of the Second National March on Washington for homosexuals rights, which took place one year prior.
Across the country, organizations, charities, universities and other groups will hold workshops, rallies, activities and other informative events to raise awareness of the LGBT community and its allies. While many may already be comfortable with sharing their sexual orientation, the day reminds those who are struggling that there are peers and supporters willing to offer their help. Visibility is important to the LGBT community, so having an internationally recognized awareness day is important for the acceptance and equality of all people. The GSA respects the privacy of Dowling students, so if any student wishes to contact the President, Melissa Theodorakatos, or Vice President, Stephen Sullivan, they may do so at mat9@dowling.edu or sfs5@dowling.edu, respectively.
The Dowling GSA will have an informational table outside of Racanelli Center from 11AM-4PM. All are welcome to stop by, whether to show their support or learn more about the coming out process. The club will have small activities and a donation center for the Trevor Project. This organization works to prevent LGBTQ youth-related suicides. They provide informational services to educators and students and offer a hotline with trained counselors for those in need.
A secret share will take place in the Performing Arts Center from 6–9PM. There will be an open discussion, trivia games, and the reading of anonymous secrets that have been shared by students. Participation in the secret share is strictly confidential and voluntary. All students are encouraged to come to this social gathering, as there will be a balance of informational sessions and fun social activities.
(:commentbox:)
---
Humanitarian Club to Light the Night
By Stephen F. Sullivan

Dowling College's Humanitarian Club is leading the way into a strong community service-based semester. With events planned to help raise money, participate in soup kitchens, and taking part in walks, the club is quite busy in lending a hand to those in need. One of the more prominent events, Light the Night, is approaching fast.
Hosted by the Leukemia & Lymphoma Society, Light the Night Walk is scheduled for various dates throughout the month. The Dowling Humanitarian Club will participate in the October 29th Walk in the Bethpage Ball Park (also known as Ducks Stadium). Club President Melissa Pernier has formed Team Spirit, with a goal of $500 in fundraising. The Club will have a table co-sponsored with the Dowling College GSA inside Racanelli Center on October 17th and will be accepting donations of any amount. All are encouraged the join the walk and transportation will be available from either of Dowling's campuses.
The Light the Night Walk is a North American effort with the goal of funding research and support for those in the fight against cancer. LLS focuses on battling leukemia, lymphoma, Hodgkin's lymphoma, and myeloma. The 2011 ambassador is Michael C. Hall, a Hodgkin's lymphoma survivor and award-winning actor known for his role as the titular character in Dexter. Individuals who raise at least $100 are recognized as a Champion for Cures and receive gifts for their efforts.
(:commentbox:)
---
Flight team article for Lion's Voice
By Andrew J. Bush

The Flying Lions Flight Team is proud to announce that we will be hosting the National Intercollegiate Flying Association Region 7 competition for the second year in a row this October 19th through October 22nd. The Flight Team has been very successful, winning two straight regional competitions and putting in a good showing at two national competitions as well, with three students placing in the top twenty in the nation. Some of the events that the Flight Team competes in include precision landings, a navigation event, many ground based events, and the all-time favorite message drop.
The Flight team would like to cordially invite all Dowling students, faculty, and staff to come out and support the team by volunteering to help set up, tear down, and everything in between. Also for the first time, we are opening up the competition as a spectator sport so anyone and everyone is welcome to come out and watch some of the events at the Brookhaven Campus. We look forward to having a safe but exciting week of competition. If anyone has any questions about volunteering, coming out to watch, or otherwise participating in the event, please contact either Andrew Bush ajb12@dowling.edu or Professor Thomas Daly dalyt@dowling.edu
(:commentbox:)
---
By Lauren M. Jones

Halloween is right around the corner! It is at this time of year, a few Dowling College students start looking for frightening thrills that are sure to leave smiles upon their faces. If you are one of these students, come join the Drama Club for some scares and laughs on October 27th in the Lion's Den! Dress up in costume, enjoy watching "Scream" and "Scary Movie" back-to-back, and socialize! As if that was not enough, there will also be pizza and drinks for everyone to enjoy. The fun starts at 7:00pm and lasts until 11:00pm! Everyone from the Drama Club hopes to see you there.
If you have any questions or concerns about this event, or anything Drama Club related, pleased do not hesitate to contact Lauren Jones at lmj4@dowling.edu.
(:commentbox:)
---
' Oktoberfest! At Dowling College!
By Jennifer Siebert

On October 5, 2011 at 2:30pm in the Conservatory, the History Club, run by President Meg Pascal, will be hosting their very own Oktoberfest celebration, in which all Dowling students and staff are welcome and encouraged to attend!
Oktoberfest is a German tradition that started in Munich, Germany. The celebration was started by King Ludwig I, as a wedding celebration to his wife Therese of Saxony-Hildburghausen. It was first held in September-October, 1810. In fact, the year 2010 was the 200-year anniversary of this event. It usually runs for 16–18 days and is one of the largest festivals in the entire world. The original event had included horse racing, one of the most popular events at that time, but that tradition is no longer part of Oktoberfest. The celebration has German food, beer, the rifleman's procession, and a massive parade, along with roller coasters and other amusement rides! In 1818, the first carousel was presented at the event. It has been coordinated at Dowling annually for the past two years, initiated by Dowling graduate Jack Edelson, a previous president of the Dowling College History Club and now Student Government Association President, Jim Rhodes.
Oktoberfest in Germany also only allows certain breweries to create beer for this event. The breweries must be located within Munich City limits and include Augustinerbräu, Hacker, Pschorr Bräu, Hofbräu, Löwenbräu, Paulanerbräu, Spatenbräu breweries. To keep it simple, the beer has become known as Oktoberfest Beer. This brew contains 4.5% alcohol when served in Germany. Traditional German meals are served during the festival as well.
At Oktoberfest at Dowling, one can look forward to traditional German foods, as well as a brief 10 minute introduction by Dr. David Meskill. There will also be live bands playing on campus. For further information, you may contact History Club President, Meg Pascal!
(:commentbox:)
---
Dowling College Business Society
By William Huether

The Dowling College Business Society kicked off the new academic year strong by hosting their September Welcome event at a Long Island Duck's game on September 11. The club had a great time at the game and enjoyed great weather and witnessed a Long Island Duck's victory over the Camden Riversharks.
On October 26, 2011, from 10am-4pm, the Business Society will be holding their first "Chocolate Sale" right in the main lobby of the Racanelli Center selling all homemade chocolate goods! Coming up in November, the Business Society is looking to host a trip to the United Nations in New York City for a guided tour. This will be an incredible trip and a great experience for everyone, no matter what major you are pursuing.
In October, the Business Society is looking to host a guest speaker event with a member of the New York State Society of CPA's and involving the Saturday MBA students. Keep on the lookout at the SGA table for upcoming tickets and flyers.
For any questions or concerns, please do not hesitate to contact the Business Society President, William Huether, at wch2@dowling.edu at anytime! The Business Society will be meeting on Monday, October 3, October 17 and October 31 at 2:30pm in room 419.
(:commentbox:)
---
' American Association of Airport Executives
By Rowland George

As the Dowling College School of Aviation greets new and returning students to the fall semester, the question comes to mind as to how one can become more involved and expand their horizons. The simplest and often overlooked path is to join one of the several aviation related clubs proudly supported by the Student Government Association. One such club is the American Association of Airport Executives that has been a significant part of the School of Aviation for many years. Yet, for the many years the club has been at Dowling College, its national origins go back even farther. In September 1928, ten airport directors met at the National Air Races at Los Angeles International Airport with the objective of forming a group to represent airport management throughout the country. It was here that the AAAE was officially formed.
Despite the struggles during World War II, the organization endured and gradually grew to what it is today, a group that promotes the professional development and personal bonding of the airport community. Boasting nearly 5,000 individual members, 3,000 airport professionals, and representing nearly 850 different airports, the AAAE remains dedicated to serving airports and the aviation industry."
As a member of the Dowling College AAAE, one will be exposed to the incredible aspects of aviation through unique trips, intriguing guest speakers, and open forum meetings. If interested in more information, contact Rowland George: reg2@dowling.edu.
To learn more, you may visit their website at http://www.aaae.org/about_aaae/history/
(:commentbox:)
---
Council for Exceptional Children
By Kaitlyn Bozzello

The Dowling College Council for Exceptional Children (CEC) had their first meeting on Tuesday, September 13th. At this meeting, there was a guest speaker and a yoga instructor for children with disabilities. The instructor went over some exercises that anyone can do and illustrated some of her techniques that she uses for children. It was very interesting, and everyone enjoyed learning about her profession. Pleased by the great turnout for the first meeting of the semester, the CEC is looking forward to its future events.
The CEC will be participating in Dowling's Autumn Festival on Thursday, September 22, 2011 from 12–4 pm. Their booth will include a pie eating contest, water balloon toss, corn shucking and a scarecrow decorating contest. There will be refreshments and prizes awarded to the winners of these contests.
The CEC will hold its next meeting on October 11th at 5:30 pm in the Hunt Room. The guest speaker at this meeting will discuss K-9 companions and how they help people with disabilities. Also, at this meeting, there will be discussion on the NYS CEC Convention from October 21st −22nd in Rochester, N.Y.
The CEC hopes to see many new and friendly faces at their upcoming events and next meeting! If you have any questions, please contact Kaitlyn Bozzello via e-mail at kxb63@dowling.edu.
(:commentbox:)
---
Student Air Traffic Control Association
By Danielle Cirimello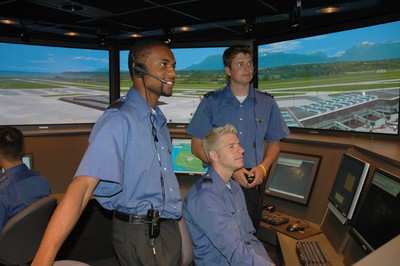 The Student Air Traffic Control Association (SATCA) is anxious to begin a new semester at Dowling College. SATCA will serve to educate, inform, and support the Dowling community about all aspects of air traffic control, including career information and air traffic operations. Through the use of instructional lessons, activities, and field trips, members will gain a better understanding of all aspects of air traffic control and the aviation industry. The organization will also provide networking opportunities and uphold a professional mind-set for all members. If interested in joining, please contact Danielle Cirimello, president of SATCA, regarding meeting times and events at dxc105@dowling.edu.
SATCA is determined to see fellow students not only strive for excellences but succeed in their future endeavours. If you are interested in learning more, come down to the Brookhaven Hanger on September 22nd, 2011 at 7:00pm for a delicious BBQ and a lot of fun. It will certainly be a great way to connect with your fellow students. So finally, we are cleared for takeoff, a nonstop flight into the fall semester! Let's enjoy the ride together.
(:commentbox:)
---
Music Club's Name that Tune: September 26th, 2011
By Kristin A. Smith

Standing under studio lights, two contestants selected from the audience nervously stared at Tom Kennedy as he would coolly explains the rules of the game. With many games to play, Melody Roulette was a popular staple of the show. To play, a wheel was spun onstage to determine the cash and prizes the contestants could win if they were the first to name the tune playing. The player to walk away with the most in cash and prizes also gained ten points. Then the contestants would move into the next round where another game commonly played was Bid-a-Note. Here, players were given clues about a song and asked to bid on how many notes they would need to identify that song. Once the bidding stopped, the contestant with the lowest bid of notes needed to successfully name that tune with the limited amount of notes given. The player who could name the most tunes would gain ten points. In the third round, worth twenty points, the contestants usually played Sing-a-Tune, which had them write down the name of a song being sung by a live singer. After these three rounds were completed, the contestant with the highest score moved on to the Golden Medley bonus round. In this round, players had thirty seconds to correctly identify seven songs in order to win more prizes before leaving the show. Understanding what was expected of them, Tom Kennedy would start everything off by saying, "Now let's play, Name That Tune!"
It goes without saying that Name That Tune was a popular prime time television game show in its day. The Music Club would now like to recreate the same excitement by bringing the game show to Dowling College on September 26th, 2011 at 7:00pm. In the ballroom, contestants will have the chance to win fabulous prizes, such as Pandora bracelets through various raffles. There will also be a 50/50 raffle to add to the fun of the evening. A variety of food will be available, as well as, gluten free food for all to enjoy. An optional fee of $5.00 will be collected at the door and all proceeds will be donated to the American Diabetes Association Walk, which will be held in October. Additional announcements concerning future events sponsored by the club will also be announced at this event. So, if you are ready to meet new people and have a great time, come on down and put your musical knowledge to the test. Hope to see you there!
(:commentbox:)
---
By Michelle Knuth

Raven's Quill, heard of it? It is the writing club here on campus. Have stories collecting dust, waiting to be read by the public? We can help! The club's goal is to have at least one member a semester have their work published. In order to go beyond this goal, Raven's Quill has created a publication called The Conspiracy, a book composed of Dowling student's fictional short stories. Interested? Come to our weekly meetings and find out what else Raven's Quill offers, as well.
(:commentbox:)
---
The Flight Simulation Tutoring Club
By Thomas W. Richter

Do you have a desire to learn more about aviation? Ever wanted to see what it is like to fly an airplane? Then you need to check out The Flight Simulation Tutoring (FST) Club. The FST provides an environment where beginners can learn the basics of flight while others can practice more advanced flight skills. Through the use of computers and flight simulating equipment, we can create realistic experiences where people can learn about and practice flight and air traffic control skills. We use programs, such as, Microsoft Flight Simulator, X-plane, and IL-2 to simulate a variety of fun and exciting scenarios. We have many events planned for the fall semester, so keep an eye out for our flyers. If you have any questions, you can contact the president of the club, Thomas Richter, at twr2@dowling.edu.
(:commentbox:)
---
By Melissa Theodorakatos

The Dowling College GSA is one of the many active clubs on campus that provides a unique and entertaining atmosphere for student participation. Entering into its second year of existence, the club has introduced a wide variety of events and meetings to keep members as active as possible throughout the college community. It is the goal of the organization to create a safe space on campus which fights to end discrimination and educate the student body on LGBT issues and causes. The executive board works annually to promote on campus visibility and allow students, who fall under the LGBT group, to feel welcome and safe. Last year alone, the past executive board recruited new members of all sexual orientation and created a family environment for students who lacked a supportive home situation. Although the organization focuses on LGBT issues, the members encourage all students to participate and become involved. The club does not focus on altering local politics nor does it ever push individual or societal beliefs on any student attending an event or meeting. The club instead focuses solely on providing an educational view of LGBT rights and encouraging safe space actions on campus.
Some of you reading this may be questioning the meaning of the term 'safe space' and how it functions within a student body. Safe spaces are designed as designated rooms, offices, schools, organizations, or other group or individual locations that vow to create a safe and non-discriminatory atmosphere that will accept and aid any individual regardless of his or her race, ethnicity, gender, sexual orientation, etc, with a focus on promoting anti-homosexual bullying awareness to LGBT youth and individuals. These locations are marked with a safe space sticker to indicate involvement and support. This sticker is usually marked with the symbolic LGBT rainbow and information on the specific safe space. Dowling students can find these safe space stickers around campus, outside staff office doors, and resident rooms. The Dowling GSA has an abundant supply for any student that wishes to post a safe space sticker on his or her door or belongings.
In regards to planned activities and meetings, President Melissa Theodorakatos has organized a variety of events to satisfy all members in terms of creating a healthy balance between entertainment and education. She will continue to work with the club's executive board during the year to ensure all events are as successful as possible. As always, any student involvement and help is greatly appreciated. The first event this semester is the GSA Rainbow September Welcome, taking place during the annual college club expo that will be held on Wednesday, September 7th from 11–4pm outside the Racanelli Center. The club encourages all interested students to stop by for free face painting, tie-dye making, and informational kits provided by the organization. The kits will include a list of all other upcoming events and meetings for the semester, as well as other information about the club's executive board and local LGBT associations. It is a great opportunity to meet the active members and get an idea of the work the organization takes part in around campus. In addition, the club will continue to host their traditional monthly family nights that continue to provide dinner and a movie for all attendees, as well as their annual Drag Ball, AIDS walk, and Pridefest March.
If you wish to join the Dowling College GSA mailing list, or to become involved in our upcoming events, please contact President Melissa at mat9@dowling.edu.
In addition, Melissa also extends an open invitation to all students to contact her for any personal issues they need assistance with. These issues can range from LGBT related advice to general freshman questions regarding college adjustment or information. Last fall, many college and high school students took their own lives due to homosexual related bullying. If you, or someone you know is a victim of bullying, please feel free to also reach out to her for student advice. The GSA possesses a great deal of information regarding suicide hotlines, counseling centers, and personal health clinics for all Dowling students to use if necessary. Feel free to contact her via email at any time during the semester.
The GSA hopes to see you during the semester!
(:commentbox:)
---
By Meagan E. Pascal and Jose F. Talavera

Like many student organizations at Dowling College, the History Club is a way for students to learn more about the past, while being able to enjoy themselves outside the classroom. With our upcoming events, such as Blast from the Past (Sept. 28th), learning can become more of a leisure activity than an academic requirement. In order to accomplish this goal, we are offering four other social interactions that students can enjoy: Constitution Day (Sept. 15th), Oktoberfest (Oct. 5th), which was a big success year before, the President's Lecture (Mar 7th), and a 40's theme dance (Apr. 5th) that will be held in the hanger on the Brookhaven campus.
The History Club also pays its respects to important moments of our nation's history. This is accomplished with such events as the Veterans Day tribute (Nov 9th) and a trip to Ground Zero (Apr. 19th). With a strong foundation from the previous year and a sturdy executive board, the History Club is guaranteed to have another successful year.
(:commentbox:)
---
By Thomas W. Richter

Alpha Eta Rho (AHP) is an International Collegiate Fraternity that has been active at Dowling College for over 40 years. The purposes of AHP are to further the cause of aviation in all of its branches, to instill in the public mind a confidence in aviation, to promote contacts between the students of aviation and those engaged in the profession and to maintain and promote the highest moral standards as members of this unique fraternity. With that in mind, we are closely working with Dowling's aviation clubs to plan and organize events for the student body. Membership is open to any aviation student who has a desire to join a family of like-minded students who will support one another throughout their careers in aviation. Information regarding the new member interest meeting for the fall will be posted around campus. To find us, keep an eye out around both campuses for our members wearing black and gold A.H.P. shirts. They will be more than willing to answer any questions you may have.
(:commentbox:)
---
By Robert Huether

The Keeping It Real Club was approved last year after Student Services' own Jane Bertsch-Wells decided she wanted to start an organization geared towards the welfare of the Dowling students. The Keeping It Real Club is geared towards helping both new and current students become acclimated with the college way of life by mentoring, tutoring, listening to student concerns and more.
The 2011/2012 school year will be filled with a ton of great events of activities hosted by the Keeping It Real Club. Recently, the Keeping It Real Club has been working closely with the Honor's Program and will be having an Honor's Reception on Wednesday, September 14th at 2:30pm to bring members of both the Honor's Program and faculty together to discuss how they can make a difference in the life of other Dowling students.
Our "September Welcome" event will be a Caribbean style barbeque known as the "One Love Barbeque." This event will be held on Tuesday, September 20th at 2:30pm on the Racanelli Lawn. In the event of rain, it will be held in the ballroom. Come on down to this event and enjoy the Caribbean style music, games, jerk chicken, Jamaican beef patties and so much more!
Other events that we will be hosting throughout the year include "Milk and Cookies Peer Tutoring" (which will be held during midterms and finals), the "Having Your Say" forum where students will be able to sit with faculty and staff and address their current issues with the school, the trip to the Zombie Walk in Asbury, New Jersey, "Game Nights" and an end of the year picnic at Belmont State Park.
If you have a passion for helping others, this is the club for you. We will be looking for people that will be interested in volunteering their time for tutoring sessions in all areas of concentration. Please do not hesitate to e-mail myself (Robert Huether) to find out more about the club and our upcoming meeting dates at rjh6@dowling.edu.
Either way, I truly wish you all the best of luck for this upcoming year.
(:commentbox:)
---
By William Huether

The Dowling College Business Society is designed to help enhance the business education of Dowling students by setting up and hosting fun events and trips that allow Dowling students to network with other students and professionals in the field. The Business Society also allows Dowling students to build their resumes, learn about the many different types of career paths in business, obtain practical lessons and information from industry professionals through guest speakers and exciting trips to New York City, and prepare students for future success in the business world through channels such as resume workshops and mock interviews.
As a member of the Business Society, you will be a part of a team that sets up and plans events, trips, and lectures for the Dowling community, as well as, partaking in valuable community service programs. For instance, members of the Business Society will be volunteering for the IRS Volunteer Income Tax Assistance (VITA/TCE) program this year, preparing federal and state income tax returns for low-income and elderly citizens on Long Island.
By joining the Business Society at Dowling College, you are setting yourself apart from the crowd and making yourself a much more marketable individual in society. Making yourself more marketable is truly important in the business world, especially in these trying economic times. Being a member of the Business Society may lead to building lifelong professional relationships, and it may assist you getting your foot in the door. Join the Dowling College Business Society and have your voice heard. We would also love to hear your ideas and thoughts on future events that you would like to see at Dowling College.
We invite you to join us at our first two meetings in September, which are being held on Monday, September 12th and Monday, September 19th in the School of Business conference room on the fourth floor of Racanelli Center at 2:30pm.
Also, join us and the rest of the Dowling community on Sunday, September 11, 2011, for a trip to the Long Island Ducks game! The bus will be leaving from Brookhaven at 12:30pm and 1:00pm in Oakdale. Tickets are only $5! See you there.
If you have any questions, comments or concerns, please do not hesitate to contact William Huether at wch2@dowling.edu at any time!
(:commentbox:)
---
By Brianne Karten

The Science Exploration Club is kicking off the year with a trip to the Bronx Zoo! New and returning students are invited to our annual September Welcome Event on September 18th. Tickets are $5 and transportation is included. Science majors and non-majors alike are welcome. The SEC is a club for any biology, chemistry, physics, marine science, earth science, math, and pre-professional health majors and minors. Of course, those who are just curious about how the world works are welcomed as well. We have some career building events throughout the year specifically designed for science major, as well as others that the whole student body can enjoy. Our monthly meetings will cover current events, as well as our academic lives. It does not look bad on your resume, either! Club officer positions are available. For more information on the trip or club, visit the SGA ticket sales table in Racanelli or e-mail Brianne at bjk4@dowling.edu.
(:commentbox:)