Student Air Traffic Control Association
By Danielle Cirimello

We would like to extend our welcome aboard for our flight leaving from Brookhaven Airport. Weather forecasts predict clear skies, good grades, and a chance of some fun! The Student Air Traffic Control Association (SATCA) has the most outstanding, best in the business cabin crew.
Now that we have embarked on our flight throughout the fall semester our pilots Professor Daly, Professor Donofrio, Professor Lindenfeld, and Professor Cushing, provide us with the utmost knowledge required for this semester's flight! However, we could not do it without the help of our flight attendants Linda Koplinka, Jane Bertsch-Wells, and Dori Byan, who support us as passengers every step of the way. The cabin crew team is there to correct our heading to ensure we maintain our course towards success because ultimately they want to see us succeed as much as we do.
Student Air Traffic Control Association is eager to deliver news of future events to local Air Traffic Control Towers and other trips coming soon. For any specific questions, meeting times, or additional information regarding SATCA, contact Danielle Cirimello at dxc105@dowling.edu. We are each other's co-pilots, striving for success together!
(:commentbox:)
---
By Stephen F. Sullivan

The Dowling College GSA will recognize National Coming Out Day on October 11th. The awareness day is recognized across the globe, with a focus on the lives of LGBT people and their hardships, stories, and celebrations of disclosing their sexual orientation or gender identity to the public. The first-ever National Coming Out Day was in 1988, and the specific October date was chosen as a remembrance of the Second National March on Washington for homosexuals rights, which took place one year prior.
Across the country, organizations, charities, universities and other groups will hold workshops, rallies, activities and other informative events to raise awareness of the LGBT community and its allies. While many may already be comfortable with sharing their sexual orientation, the day reminds those who are struggling that there are peers and supporters willing to offer their help. Visibility is important to the LGBT community, so having an internationally recognized awareness day is important for the acceptance and equality of all people. The GSA respects the privacy of Dowling students, so if any student wishes to contact the President, Melissa Theodorakatos, or Vice President, Stephen Sullivan, they may do so at mat9@dowling.edu or sfs5@dowling.edu, respectively.
The Dowling GSA will have an informational table outside of Racanelli Center from 11AM-4PM. All are welcome to stop by, whether to show their support or learn more about the coming out process. The club will have small activities and a donation center for the Trevor Project. This organization works to prevent LGBTQ youth-related suicides. They provide informational services to educators and students and offer a hotline with trained counselors for those in need.
A secret share will take place in the Performing Arts Center from 6–9PM. There will be an open discussion, trivia games, and the reading of anonymous secrets that have been shared by students. Participation in the secret share is strictly confidential and voluntary. All students are encouraged to come to this social gathering, as there will be a balance of informational sessions and fun social activities.
(:commentbox:)
---
Humanitarian Club to Light the Night
By Stephen F. Sullivan

Dowling College's Humanitarian Club is leading the way into a strong community service-based semester. With events planned to help raise money, participate in soup kitchens, and taking part in walks, the club is quite busy in lending a hand to those in need. One of the more prominent events, Light the Night, is approaching fast.
Hosted by the Leukemia & Lymphoma Society, Light the Night Walk is scheduled for various dates throughout the month. The Dowling Humanitarian Club will participate in the October 29th Walk in the Bethpage Ball Park (also known as Ducks Stadium). Club President Melissa Pernier has formed Team Spirit, with a goal of $500 in fundraising. The Club will have a table co-sponsored with the Dowling College GSA inside Racanelli Center on October 17th and will be accepting donations of any amount. All are encouraged the join the walk and transportation will be available from either of Dowling's campuses.
The Light the Night Walk is a North American effort with the goal of funding research and support for those in the fight against cancer. LLS focuses on battling leukemia, lymphoma, Hodgkin's lymphoma, and myeloma. The 2011 ambassador is Michael C. Hall, a Hodgkin's lymphoma survivor and award-winning actor known for his role as the titular character in Dexter. Individuals who raise at least $100 are recognized as a Champion for Cures and receive gifts for their efforts.
(:commentbox:)
---
Flight team article for Lion's Voice
By Andrew J. Bush

The Flying Lions Flight Team is proud to announce that we will be hosting the National Intercollegiate Flying Association Region 7 competition for the second year in a row this October 19th through October 22nd. The Flight Team has been very successful, winning two straight regional competitions and putting in a good showing at two national competitions as well, with three students placing in the top twenty in the nation. Some of the events that the Flight Team competes in include precision landings, a navigation event, many ground based events, and the all-time favorite message drop.
The Flight team would like to cordially invite all Dowling students, faculty, and staff to come out and support the team by volunteering to help set up, tear down, and everything in between. Also for the first time, we are opening up the competition as a spectator sport so anyone and everyone is welcome to come out and watch some of the events at the Brookhaven Campus. We look forward to having a safe but exciting week of competition. If anyone has any questions about volunteering, coming out to watch, or otherwise participating in the event, please contact either Andrew Bush ajb12@dowling.edu or Professor Thomas Daly dalyt@dowling.edu
(:commentbox:)
---
By Lauren M. Jones

Halloween is right around the corner! It is at this time of year, a few Dowling College students start looking for frightening thrills that are sure to leave smiles upon their faces. If you are one of these students, come join the Drama Club for some scares and laughs on October 27th in the Lion's Den! Dress up in costume, enjoy watching "Scream" and "Scary Movie" back-to-back, and socialize! As if that was not enough, there will also be pizza and drinks for everyone to enjoy. The fun starts at 7:00pm and lasts until 11:00pm! Everyone from the Drama Club hopes to see you there.
If you have any questions or concerns about this event, or anything Drama Club related, pleased do not hesitate to contact Lauren Jones at lmj4@dowling.edu.
(:commentbox:)
---
' Oktoberfest! At Dowling College!
By Jennifer Siebert

On October 5, 2011 at 2:30pm in the Conservatory, the History Club, run by President Meg Pascal, will be hosting their very own Oktoberfest celebration, in which all Dowling students and staff are welcome and encouraged to attend!
Oktoberfest is a German tradition that started in Munich, Germany. The celebration was started by King Ludwig I, as a wedding celebration to his wife Therese of Saxony-Hildburghausen. It was first held in September-October, 1810. In fact, the year 2010 was the 200-year anniversary of this event. It usually runs for 16–18 days and is one of the largest festivals in the entire world. The original event had included horse racing, one of the most popular events at that time, but that tradition is no longer part of Oktoberfest. The celebration has German food, beer, the rifleman's procession, and a massive parade, along with roller coasters and other amusement rides! In 1818, the first carousel was presented at the event. It has been coordinated at Dowling annually for the past two years, initiated by Dowling graduate Jack Edelson, a previous president of the Dowling College History Club and now Student Government Association President, Jim Rhodes.
Oktoberfest in Germany also only allows certain breweries to create beer for this event. The breweries must be located within Munich City limits and include Augustinerbräu, Hacker, Pschorr Bräu, Hofbräu, Löwenbräu, Paulanerbräu, Spatenbräu breweries. To keep it simple, the beer has become known as Oktoberfest Beer. This brew contains 4.5% alcohol when served in Germany. Traditional German meals are served during the festival as well.
At Oktoberfest at Dowling, one can look forward to traditional German foods, as well as a brief 10 minute introduction by Dr. David Meskill. There will also be live bands playing on campus. For further information, you may contact History Club President, Meg Pascal!
(:commentbox:)
---
Dowling College Business Society
By William Huether

The Dowling College Business Society kicked off the new academic year strong by hosting their September Welcome event at a Long Island Duck's game on September 11. The club had a great time at the game and enjoyed great weather and witnessed a Long Island Duck's victory over the Camden Riversharks.
On October 26, 2011, from 10am-4pm, the Business Society will be holding their first "Chocolate Sale" right in the main lobby of the Racanelli Center selling all homemade chocolate goods! Coming up in November, the Business Society is looking to host a trip to the United Nations in New York City for a guided tour. This will be an incredible trip and a great experience for everyone, no matter what major you are pursuing.
In October, the Business Society is looking to host a guest speaker event with a member of the New York State Society of CPA's and involving the Saturday MBA students. Keep on the lookout at the SGA table for upcoming tickets and flyers.
For any questions or concerns, please do not hesitate to contact the Business Society President, William Huether, at wch2@dowling.edu at anytime! The Business Society will be meeting on Monday, October 3, October 17 and October 31 at 2:30pm in room 419.
(:commentbox:)
---
' American Association of Airport Executives
By Rowland George

As the Dowling College School of Aviation greets new and returning students to the fall semester, the question comes to mind as to how one can become more involved and expand their horizons. The simplest and often overlooked path is to join one of the several aviation related clubs proudly supported by the Student Government Association. One such club is the American Association of Airport Executives that has been a significant part of the School of Aviation for many years. Yet, for the many years the club has been at Dowling College, its national origins go back even farther. In September 1928, ten airport directors met at the National Air Races at Los Angeles International Airport with the objective of forming a group to represent airport management throughout the country. It was here that the AAAE was officially formed.
Despite the struggles during World War II, the organization endured and gradually grew to what it is today, a group that promotes the professional development and personal bonding of the airport community. Boasting nearly 5,000 individual members, 3,000 airport professionals, and representing nearly 850 different airports, the AAAE remains dedicated to serving airports and the aviation industry."
As a member of the Dowling College AAAE, one will be exposed to the incredible aspects of aviation through unique trips, intriguing guest speakers, and open forum meetings. If interested in more information, contact Rowland George: reg2@dowling.edu.
To learn more, you may visit their website at http://www.aaae.org/about_aaae/history/
(:commentbox:)
---
Council for Exceptional Children
By Kaitlyn Bozzello

The Dowling College Council for Exceptional Children (CEC) had their first meeting on Tuesday, September 13th. At this meeting, there was a guest speaker and a yoga instructor for children with disabilities. The instructor went over some exercises that anyone can do and illustrated some of her techniques that she uses for children. It was very interesting, and everyone enjoyed learning about her profession. Pleased by the great turnout for the first meeting of the semester, the CEC is looking forward to its future events.
The CEC will be participating in Dowling's Autumn Festival on Thursday, September 22, 2011 from 12–4 pm. Their booth will include a pie eating contest, water balloon toss, corn shucking and a scarecrow decorating contest. There will be refreshments and prizes awarded to the winners of these contests.
The CEC will hold its next meeting on October 11th at 5:30 pm in the Hunt Room. The guest speaker at this meeting will discuss K-9 companions and how they help people with disabilities. Also, at this meeting, there will be discussion on the NYS CEC Convention from October 21st −22nd in Rochester, N.Y.
The CEC hopes to see many new and friendly faces at their upcoming events and next meeting! If you have any questions, please contact Kaitlyn Bozzello via e-mail at kxb63@dowling.edu.
(:commentbox:)
---
Student Air Traffic Control Association
By Danielle Cirimello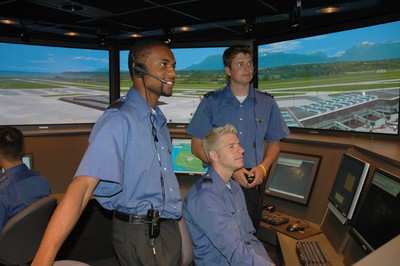 The Student Air Traffic Control Association (SATCA) is anxious to begin a new semester at Dowling College. SATCA will serve to educate, inform, and support the Dowling community about all aspects of air traffic control, including career information and air traffic operations. Through the use of instructional lessons, activities, and field trips, members will gain a better understanding of all aspects of air traffic control and the aviation industry. The organization will also provide networking opportunities and uphold a professional mind-set for all members. If interested in joining, please contact Danielle Cirimello, president of SATCA, regarding meeting times and events at dxc105@dowling.edu.
SATCA is determined to see fellow students not only strive for excellences but succeed in their future endeavours. If you are interested in learning more, come down to the Brookhaven Hanger on September 22nd, 2011 at 7:00pm for a delicious BBQ and a lot of fun. It will certainly be a great way to connect with your fellow students. So finally, we are cleared for takeoff, a nonstop flight into the fall semester! Let's enjoy the ride together.
(:commentbox:)
---
Music Club's Name that Tune: September 26th, 2011
By Kristin A. Smith

Standing under studio lights, two contestants selected from the audience nervously stared at Tom Kennedy as he would coolly explains the rules of the game. With many games to play, Melody Roulette was a popular staple of the show. To play, a wheel was spun onstage to determine the cash and prizes the contestants could win if they were the first to name the tune playing. The player to walk away with the most in cash and prizes also gained ten points. Then the contestants would move into the next round where another game commonly played was Bid-a-Note. Here, players were given clues about a song and asked to bid on how many notes they would need to identify that song. Once the bidding stopped, the contestant with the lowest bid of notes needed to successfully name that tune with the limited amount of notes given. The player who could name the most tunes would gain ten points. In the third round, worth twenty points, the contestants usually played Sing-a-Tune, which had them write down the name of a song being sung by a live singer. After these three rounds were completed, the contestant with the highest score moved on to the Golden Medley bonus round. In this round, players had thirty seconds to correctly identify seven songs in order to win more prizes before leaving the show. Understanding what was expected of them, Tom Kennedy would start everything off by saying, "Now let's play, Name That Tune!"
It goes without saying that Name That Tune was a popular prime time television game show in its day. The Music Club would now like to recreate the same excitement by bringing the game show to Dowling College on September 26th, 2011 at 7:00pm. In the ballroom, contestants will have the chance to win fabulous prizes, such as Pandora bracelets through various raffles. There will also be a 50/50 raffle to add to the fun of the evening. A variety of food will be available, as well as, gluten free food for all to enjoy. An optional fee of $5.00 will be collected at the door and all proceeds will be donated to the American Diabetes Association Walk, which will be held in October. Additional announcements concerning future events sponsored by the club will also be announced at this event. So, if you are ready to meet new people and have a great time, come on down and put your musical knowledge to the test. Hope to see you there!
(:commentbox:)
---
By Michelle Knuth

Raven's Quill, heard of it? It is the writing club here on campus. Have stories collecting dust, waiting to be read by the public? We can help! The club's goal is to have at least one member a semester have their work published. In order to go beyond this goal, Raven's Quill has created a publication called The Conspiracy, a book composed of Dowling student's fictional short stories. Interested? Come to our weekly meetings and find out what else Raven's Quill offers, as well.
(:commentbox:)
---
The Flight Simulation Tutoring Club
By Thomas W. Richter

Do you have a desire to learn more about aviation? Ever wanted to see what it is like to fly an airplane? Then you need to check out The Flight Simulation Tutoring (FST) Club. The FST provides an environment where beginners can learn the basics of flight while others can practice more advanced flight skills. Through the use of computers and flight simulating equipment, we can create realistic experiences where people can learn about and practice flight and air traffic control skills. We use programs, such as, Microsoft Flight Simulator, X-plane, and IL-2 to simulate a variety of fun and exciting scenarios. We have many events planned for the fall semester, so keep an eye out for our flyers. If you have any questions, you can contact the president of the club, Thomas Richter, at twr2@dowling.edu.
(:commentbox:)
---
By Melissa Theodorakatos

The Dowling College GSA is one of the many active clubs on campus that provides a unique and entertaining atmosphere for student participation. Entering into its second year of existence, the club has introduced a wide variety of events and meetings to keep members as active as possible throughout the college community. It is the goal of the organization to create a safe space on campus which fights to end discrimination and educate the student body on LGBT issues and causes. The executive board works annually to promote on campus visibility and allow students, who fall under the LGBT group, to feel welcome and safe. Last year alone, the past executive board recruited new members of all sexual orientation and created a family environment for students who lacked a supportive home situation. Although the organization focuses on LGBT issues, the members encourage all students to participate and become involved. The club does not focus on altering local politics nor does it ever push individual or societal beliefs on any student attending an event or meeting. The club instead focuses solely on providing an educational view of LGBT rights and encouraging safe space actions on campus.
Some of you reading this may be questioning the meaning of the term 'safe space' and how it functions within a student body. Safe spaces are designed as designated rooms, offices, schools, organizations, or other group or individual locations that vow to create a safe and non-discriminatory atmosphere that will accept and aid any individual regardless of his or her race, ethnicity, gender, sexual orientation, etc, with a focus on promoting anti-homosexual bullying awareness to LGBT youth and individuals. These locations are marked with a safe space sticker to indicate involvement and support. This sticker is usually marked with the symbolic LGBT rainbow and information on the specific safe space. Dowling students can find these safe space stickers around campus, outside staff office doors, and resident rooms. The Dowling GSA has an abundant supply for any student that wishes to post a safe space sticker on his or her door or belongings.
In regards to planned activities and meetings, President Melissa Theodorakatos has organized a variety of events to satisfy all members in terms of creating a healthy balance between entertainment and education. She will continue to work with the club's executive board during the year to ensure all events are as successful as possible. As always, any student involvement and help is greatly appreciated. The first event this semester is the GSA Rainbow September Welcome, taking place during the annual college club expo that will be held on Wednesday, September 7th from 11–4pm outside the Racanelli Center. The club encourages all interested students to stop by for free face painting, tie-dye making, and informational kits provided by the organization. The kits will include a list of all other upcoming events and meetings for the semester, as well as other information about the club's executive board and local LGBT associations. It is a great opportunity to meet the active members and get an idea of the work the organization takes part in around campus. In addition, the club will continue to host their traditional monthly family nights that continue to provide dinner and a movie for all attendees, as well as their annual Drag Ball, AIDS walk, and Pridefest March.
If you wish to join the Dowling College GSA mailing list, or to become involved in our upcoming events, please contact President Melissa at mat9@dowling.edu.
In addition, Melissa also extends an open invitation to all students to contact her for any personal issues they need assistance with. These issues can range from LGBT related advice to general freshman questions regarding college adjustment or information. Last fall, many college and high school students took their own lives due to homosexual related bullying. If you, or someone you know is a victim of bullying, please feel free to also reach out to her for student advice. The GSA possesses a great deal of information regarding suicide hotlines, counseling centers, and personal health clinics for all Dowling students to use if necessary. Feel free to contact her via email at any time during the semester.
The GSA hopes to see you during the semester!
(:commentbox:)
---
By Meagan E. Pascal and Jose F. Talavera

Like many student organizations at Dowling College, the History Club is a way for students to learn more about the past, while being able to enjoy themselves outside the classroom. With our upcoming events, such as Blast from the Past (Sept. 28th), learning can become more of a leisure activity than an academic requirement. In order to accomplish this goal, we are offering four other social interactions that students can enjoy: Constitution Day (Sept. 15th), Oktoberfest (Oct. 5th), which was a big success year before, the President's Lecture (Mar 7th), and a 40's theme dance (Apr. 5th) that will be held in the hanger on the Brookhaven campus.
The History Club also pays its respects to important moments of our nation's history. This is accomplished with such events as the Veterans Day tribute (Nov 9th) and a trip to Ground Zero (Apr. 19th). With a strong foundation from the previous year and a sturdy executive board, the History Club is guaranteed to have another successful year.
(:commentbox:)
---
By Thomas W. Richter

Alpha Eta Rho (AHP) is an International Collegiate Fraternity that has been active at Dowling College for over 40 years. The purposes of AHP are to further the cause of aviation in all of its branches, to instill in the public mind a confidence in aviation, to promote contacts between the students of aviation and those engaged in the profession and to maintain and promote the highest moral standards as members of this unique fraternity. With that in mind, we are closely working with Dowling's aviation clubs to plan and organize events for the student body. Membership is open to any aviation student who has a desire to join a family of like-minded students who will support one another throughout their careers in aviation. Information regarding the new member interest meeting for the fall will be posted around campus. To find us, keep an eye out around both campuses for our members wearing black and gold A.H.P. shirts. They will be more than willing to answer any questions you may have.
(:commentbox:)
---
By Robert Huether

The Keeping It Real Club was approved last year after Student Services' own Jane Bertsch-Wells decided she wanted to start an organization geared towards the welfare of the Dowling students. The Keeping It Real Club is geared towards helping both new and current students become acclimated with the college way of life by mentoring, tutoring, listening to student concerns and more.
The 2011/2012 school year will be filled with a ton of great events of activities hosted by the Keeping It Real Club. Recently, the Keeping It Real Club has been working closely with the Honor's Program and will be having an Honor's Reception on Wednesday, September 14th at 2:30pm to bring members of both the Honor's Program and faculty together to discuss how they can make a difference in the life of other Dowling students.
Our "September Welcome" event will be a Caribbean style barbeque known as the "One Love Barbeque." This event will be held on Tuesday, September 20th at 2:30pm on the Racanelli Lawn. In the event of rain, it will be held in the ballroom. Come on down to this event and enjoy the Caribbean style music, games, jerk chicken, Jamaican beef patties and so much more!
Other events that we will be hosting throughout the year include "Milk and Cookies Peer Tutoring" (which will be held during midterms and finals), the "Having Your Say" forum where students will be able to sit with faculty and staff and address their current issues with the school, the trip to the Zombie Walk in Asbury, New Jersey, "Game Nights" and an end of the year picnic at Belmont State Park.
If you have a passion for helping others, this is the club for you. We will be looking for people that will be interested in volunteering their time for tutoring sessions in all areas of concentration. Please do not hesitate to e-mail myself (Robert Huether) to find out more about the club and our upcoming meeting dates at rjh6@dowling.edu.
Either way, I truly wish you all the best of luck for this upcoming year.
(:commentbox:)
---
By William Huether

The Dowling College Business Society is designed to help enhance the business education of Dowling students by setting up and hosting fun events and trips that allow Dowling students to network with other students and professionals in the field. The Business Society also allows Dowling students to build their resumes, learn about the many different types of career paths in business, obtain practical lessons and information from industry professionals through guest speakers and exciting trips to New York City, and prepare students for future success in the business world through channels such as resume workshops and mock interviews.
As a member of the Business Society, you will be a part of a team that sets up and plans events, trips, and lectures for the Dowling community, as well as, partaking in valuable community service programs. For instance, members of the Business Society will be volunteering for the IRS Volunteer Income Tax Assistance (VITA/TCE) program this year, preparing federal and state income tax returns for low-income and elderly citizens on Long Island.
By joining the Business Society at Dowling College, you are setting yourself apart from the crowd and making yourself a much more marketable individual in society. Making yourself more marketable is truly important in the business world, especially in these trying economic times. Being a member of the Business Society may lead to building lifelong professional relationships, and it may assist you getting your foot in the door. Join the Dowling College Business Society and have your voice heard. We would also love to hear your ideas and thoughts on future events that you would like to see at Dowling College.
We invite you to join us at our first two meetings in September, which are being held on Monday, September 12th and Monday, September 19th in the School of Business conference room on the fourth floor of Racanelli Center at 2:30pm.
Also, join us and the rest of the Dowling community on Sunday, September 11, 2011, for a trip to the Long Island Ducks game! The bus will be leaving from Brookhaven at 12:30pm and 1:00pm in Oakdale. Tickets are only $5! See you there.
If you have any questions, comments or concerns, please do not hesitate to contact William Huether at wch2@dowling.edu at any time!
(:commentbox:)
---
By Brianne Karten

The Science Exploration Club is kicking off the year with a trip to the Bronx Zoo! New and returning students are invited to our annual September Welcome Event on September 18th. Tickets are $5 and transportation is included. Science majors and non-majors alike are welcome. The SEC is a club for any biology, chemistry, physics, marine science, earth science, math, and pre-professional health majors and minors. Of course, those who are just curious about how the world works are welcomed as well. We have some career building events throughout the year specifically designed for science major, as well as others that the whole student body can enjoy. Our monthly meetings will cover current events, as well as our academic lives. It does not look bad on your resume, either! Club officer positions are available. For more information on the trip or club, visit the SGA ticket sales table in Racanelli or e-mail Brianne at bjk4@dowling.edu.
(:commentbox:)