By Patricia Allen

http://www.transformyourmoney.com/
Saving money is one of the most difficult things for me to do. It is the process of having money, while also maintaining a responsibility for budgeting. Saving money is a maturity level defining the difference and value of a priority and an option. With the proper guidance, saving money can be a piece of cake.
I do not understand HOW to save money. I like to shop for materialistic items, such as clothing, urban books, shoes and accessories. That is not, however, where ALL my money goes towards. Most times, my money goes towards the, "Do I really need this?" or "Hmm, I can use this for something?" kind of buying. This is where I have a problem. Saving money, to me, is something I have to plan ahead of time for. If I were given a check right now, my management would be unstable, because I would not know how to spend the money given to me. Saving money consists of preparation. And to prepare myself, I have to actually want to save money in the first place. Because when money is gone, the only person at fault is the person who let all the money go.
Today, I am slowly maturing into an independent young woman. When I mean slowly, I am not kidding! It frustrates me when I cannot save money, because I find the most ridiculous things to buy that I know I do not need, but purchase anyway, knowing I can use the item(s) eventually. I have a problem. But, at least I know I have a problem. I am interested in solving this problem, too. I want to learn that it is okay not to shop every two weeks and not always attend social gatherings. These transitions will not necessarily decrease my fashion statement, nor will it decrease my friendship with peers. But, it can increase the maturity level between me and the way I spend money. Saving money takes discipline, and I am ready to be on my best behavior.
Recently, I have thought of ways to save money that might help someone else who has trouble with money management. At first, I found it somewhat of a struggle. But, in order to reach any goal, I believe you will be tempted to fail.
I received a check last week in the mail. Before I received this check, I jotted down things I needed to purchase and things I did not NEED but knew I wanted. This gave me the opportunity to prioritize myself. Also, this gave me a reality check that every check I did receive, I did not always have to spend it on things I wanted. Anyway, that weekend I needed to get my hair done. That is the only plans I NEEDED to master. So what I wrote down in a notebook was the amount of money I knew I was going to spend on getting my hair done and the "pocket money" I wanted to keep in my wallet. That sounded pretty easy right? A week ago, I was doubtful I could stick with that plan. But the motivation I had was not to spend any unnecessary money at all; although, it seems like a simple concept, it so difficult for me to master. I tend to have what ifs in the back of my head. What if I end up buying something I really do not need? What if my friends wanted to go out to dinner and a movie that night? I am not the cheapest person on earth. But, at this point, I have to act on a budget in order to prove to myself I can accomplish the goal of saving money.
I have priorities I need to face. Should I face all of these priorities at once is the question though. Since priorities are given special attention to, I took it upon myself to take one priority at a time. That way I would not become stressed. Having money can allow you to buy things that are not valuable, and I want to cherish value. I want to buy (value) things I know will benefit me at the end of the day. For example, I would rather pay a bill on time than buy an outfit for a social gathering the day of. Even though I may hate paying a bill, I know it has to be done or else that particular service will be turned off.
There is a difference between priorities and options. What is a priority is important and will always need to be addressed first. What is an option will always be an option at the end of the day, tomorrow, and even the next day. I guess what I am trying to say is do not spend all of your money on things you do not necessarily need. I know as college students we have a sense of freedom and independence. But, at the same time, we are growing into young adults. We will be facing the real world before we know it, and it can be an accomplishment to ourselves if we already had an amount of money saved.
Thinking ahead is mastering a brainstormed idea. I chose to save money, because I want to gain the knowledge of maturity and responsibility. Also, how else will my trip to Italy get paid for one day, anyway?! In all honesty, money saved is valuing hard work spent in earning that money in the first place. Like a girlfriend once told me, life is a fight. And at the end of the fight is a reward that will blow you away. Therefore, saving money has its benefits and can create priceless memories!
(:commentbox:)
By Peter Rice

http://www.elements4health.com/brain-areas-fail-to-connect-in-adhd.html
According to the most recent reports from the Center for Disease Control and Prevention (CDC), as of 2007, around 5.4 million school age children have been diagnosed Attention Deficit Hyperactivity Disorder (ADHD); that adds up to roughly 1 out of 10 children. Two-thirds of those already diagnosed, more than half of the children in the study, were taking medications to control it. It is, however, unclear how many also received behavioral therapy in addition to, or in place of, the medicine.
To arrive at these results, the CDC polled parents in 2003 and 2007 and asked if their child had ever received such a diagnosis. In the four year span, the number of children between the ages of four and seventeen with an ADHD diagnosis jumped by one million, an increase of nearly 22% . One explanation for this dramatic increase is that public awareness of what ADHD is has increased, and people are getting better at recognizing it. Under this assumption, it is not that ADHD is getting more prevalent, but rather that doctors, teachers, and parents are getting better at identify it and are faster at raising the warning flags. The problem is, however, since some of the symptoms can mimic the behavior of typical children (e.g., being disorganized, unprepared, interrupting people, not listening when someone is speaking, and so on), can we be sure that all the diagnoses are justifiable?
It is true that children with ADHD typically have problems focusing and paying attention and are hyperactive and behave impulsively. But is it not also true that the behaviors of children generally look different in different age groups? The need to sit in class and concentrate for long periods of time in a school setting will of course exacerbate a child's hyperactive tendencies and result in an increased awareness of attention problems that may have otherwise gone unnoticed. The result of this may then be to create the sense that it is necessary to medicate the child's newly realized condition in order to quickly safeguard their performance in school; if the parent is adverse to giving their child medication there are of course behavioral interventions available, but they generally require more time before effective results are seen. But is it possible that in some cases ADHD diagnosis and treatment plans are being made too quickly in order to satisfy a desire for students to perform academically?
Whatever the answer, academic performance is valued and efforts to appropriately determine and diagnosis children with ADHD during their primary school years will continue. And now, some are even wondering if it can be done even earlier. How about preschool? Preschoolers are naturally more hyperactive and accident-prone, but experts currently believe that if enough adults notice severe overactive behaviors over a persistent time period that they could now meet the bar for diagnosis and justify treatment.
New guidelines and recommendation for treating Attention Deficit Hyperactivity Disorder (ADHD) are now out from the American Academy of Pediatrics (AAP). Wanting to increase attempts of early intervention, the agency is looking into expanding the ages in which children can be diagnosed. Currently, diagnosis typically occurs during the ages of 6 and 12. But pediatricians are urging that the age range be adjusted to between the ages of 4 and 18, which would include both preschoolers and older children.
Why would they want such a change? They claim that it is not to scramble to get more children diagnosed, but rather to allow pediatricians, teachers, and parents to all be on the same page. Since new data released over the past decade seems to reveal that ADHD can be detected and diagnosed in children as young as four, the idea is to diagnose them earlier in order to get everyone involved in their life actively intervening early. The hope is that a preschooler would benefit from behavioral treatments before entering school, where attention problems can impede learning.
Few would deny the benefits of early interventions when dealing with children who have disabilities, but does this mean that these individuals will be treated with ADHD medications? And considering their age, would the use of such medications in preschoolers be safe? The nation's pediatricians warn that the intention of their recommendations is not to increase the number of children on medication, but rather to increase early intervention efforts, including behavioral therapies for children with ADHD. They also claim that clinical trials suggest that the drugs are safe and effective in preschoolers. Overall, whether these recommendations mean that interventions will be to medicate or use behavioral therapies is all dependent on the child's responsiveness to the treatments itself. The central efforts of the AAP are primarily to de-stigmatize ADHD, intercede earlier, broaden the age horizon, treat appropriately, and understand that ADHD is something that all have to be on the same page about.
How Attention Deficit Hyperactivity Disorder (ADHD) should be treated and how early that treatment should start, are all relevant questions with different answers. The American Academy of Pediatrics (AAP) advises that older children receive either behavioral therapy, medication, or preferably both. They are now looking into providing clarifications and guidance to pediatricians in terms of assessing and treating preschoolers with symptoms of hyperactivity and attention deficit. But essentially, the goal is to correctly diagnosing the child and increasing public awareness about ADHD to decrease the stigmas attached. Though many questions still remain, time will surely provide answers. Until then, we continue to look for faces with ADHD.
(:commentbox:)
By Stephen F. Sullivan

http://edudemic.com/2011/10/how-steve-jobs-impacted-education/
Steve Jobs will always be remembered as one of the greatest innovators of our time. Unfortunately, on October 5, 2011, he passed away after a long struggle with pancreatic cancer at the age of 56. The world mourns the loss of the co-founder and former CEO of Apple Inc.
Jobs headed the design of the original Macintosh computer, a device that revolutionized the experience consumers have with home technology. After a long absence from Apple Inc, he returned and led the company to design three of the most recognizable products of recent history: the iPod, iPhone and iPad. Undeniably, all three of these ingenious devices have had a strong influence on the daily lives of students, business people, consumers, and professionals. His keen eye for the desires of the market and ability to design such innovative products is something companies envied. Without a doubt, Steve Jobs changed the way we use technology in our daily lives.
In addition to his work with Apple, Jobs was responsible for starting Pixar, best known for animation films such as Toy Story and Finding Nemo. The company is now owned by Disney but owes much of its success to the vision and direction of Jobs.
Reports confirm Jobs worked for Apple until the day before his death. He had stepped down as CEO in August, and Tim Cook was named his successor. President Obama spoke of his death, "Steve was among the greatest of American innovators – brave enough to think differently, bold enough to believe he could change the world, and talented enough to do it." Bill Gates, Microsoft founder and former rival, was quoted as saying; "Steve and I first met nearly 30 years ago and have been colleagues, competitors and friends over the course of more than half our lives. For those of us lucky enough to get to work with him, it's been an insanely great honor."
In 2005, Jobs gave the commencement address at Stanford University. He said, "The only way to do great work is to love what you do. If you haven't found it yet, keep looking. Don't settle. As with all matters of the heart, you'll know when you find it."
(:commentbox:)
By Arianna Johnson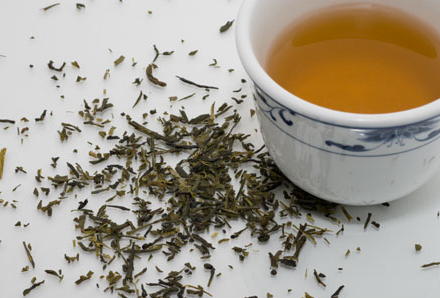 http://www.ifood.tv/blog/tips_for_making_green_tea
Tea has been a staple in Asian diets for thousands of years. The culture that surrounds tea, from its health benefits to special ceremonies, has reached all around the world. However, what we know as tea, the bland stuff in a bag, is not really tea at its finest. Tathiana and Alessandro Teixeira of Plain T in Southampton are showing residents of the Hamptons what tea is really all about.
About six years ago, Tathiana had to decide what else to do career-wise after dancing ballet professionally. She strongly believed in the health benefits of tea and used tea not only to stay fit as a dancer but to ease sore muscles. After an ACL injury formally ended her career as a ballerina, it was a "natural transition" for her to start a tea company. With the help from Alessandro, her husband, they both researched together where to get the best tea and how to market it properly. At first, they started out only selling bulk bags of tea leaves to high-end restaurants in Manhattan but then decided to expand to the Hamptons.
Four years ago, Alessandro and Tathiana moved out to the Hamptons and set up shop in a little space that used to be an ice factory. Plain T in 100% organic, hand crafted, and only receives tea from premium gardens in Japan, China, Sri Lanka, and India. They have over 40 types of hot tea, including green, black, white, oolong, and herbal. Plain T also offers four types of iced tea that is flavored, but has no sugar and is mostly caffeine free; their most popular of these is the green. They still sell in bulk to the restaurants in Manhattan, but now they are also in many restaurants in the Hamptons and Montauk. The company has now expanded to smaller retail stores selling their iced tea and boxes of tea bags, which are all put together by hand.
In order to get the word out there, Alessandro and Tathiana give tea lectures as parties for business meetings or just for fun. This helps people to learn where tea comes from and what it is supposed to taste like. They have their little studio set up as a tea "tasting room," which exhibits what each tea looks like and how to brew it the right way. Alessandro believes that people have no clue what real tea really is because society is used to over sugary and flavored concoctions. He hopes to teach people what the true meaning of tea is and to turn them into "connoisseurs" of some sort. He also hopes that the company will not become so big that they will have to sell out to a larger corporation, which will ruin the naturalness of their product.
With the dedication that both Alessandro and Tathiana put into Plain T, fingers crossed that they are here to stay for a while. Even though their space is a little difficult to find, once you step inside, it is well worth the search.
Plain T 87 Powell Avenue Southampton 11968.
(:commentbox:)
The Loss of a Beloved Teenager
By Melissa A. Theodorakatos

"Thank you Lady Gaga for everything you have done for me. Paws up forever."
Those were the final words ever written by 14-year-old Jamey Rodemeyer at 1:30AM on Sunday, September 18th. Hours later, he was found dead outside his home after committing suicide. Reports show his death was linked to anti-homosexual actions taken by his classmates at Williamsville North High School in Buffalo, New York.
Jamey was an active blogger, using his personal Tumblr as a venting area for his pain and suffering. In the recent weeks leading up to his death, posts were seen of song lyrics pertaining to death and depression. The posts were not seen as alarming to his followers due to their integration with regular postings of pictures and social commentary. Outside of the Internet, he often complained of the bullying he received to his school's administration and in return was given very little guidance from his assigned school social worker. It has been revealed that he was also seeing a therapist separately due to his depression. Family members have admitted that suicide warning signs were evident, but his recent behavior showed signs of improvement. His school social worker stated that the administration provides services, but claims that the school is not a mental health clinic.
Those who knew Jamey in the real world and online found themselves in a state of shock after the incident. He was well loved on his blog and was considered a sweet and loving boy that favored Lady Gaga and represented himself as a "Little Monster." He created his own "It Gets Better" video, in which he spoke of his bullying but reassured the viewer that he felt support from those around him. He mentioned his love for the Gaga and quoted her single Born This Way by telling viewers you must "love yourself and you are set." He promised it would get better and urged his viewers to embrace their identity. One can only wonder why he did not take his own advice in the moments up until his death.
Jamey's death has reached individuals nation-wide, filling the Internet with sympathy messages and dedication videos to show support for his family. But, as in every situation, there also exists posting from individuals degrading the news of his passing and regarding the situation as irrelevant. Thousands of posts on Twitter and other social networking sites include updates that categorize suicide victims as weak, claiming that the LGBT community must grow thicker skin and disregard the hateful remarks. These individuals lack the understanding that every person is unique in his or her ability to cope with a negative integration within life.
The only comfort that one can receive from this tragic event is the knowledge that his suicide will bring about change within our country. After the deaths of Tyler Clementi and other young adult homosexual males in the fall of 2010, initiations of all kinds were brought forth to end the anti-LGBT related bullying around school and work environments. Jamey's death is acting as a reminder of these initiatives, bringing light to the situation and creating a generalized feeling that action needs to be taken immediately. Lady Gaga tweeted shortly after his death that she was aware of the situation and would spark a movement to ask our government for a law that will change the way bullying is handled throughout America. Her tweets began a discussion among followers regarding the legal action that would be fitting in these situations. Many feel school administrations should be compelled to take more action within a student's life, especially when warning sides are evident. Others believe that older bullies that commit actions that can be categorized as hate crimes should be disciplined in a court of law, especially if their actions are proven to be a direct cause of one's suffering. Whether or not Gaga's actions will develop any type of legalized document is unforeseen, but they will certainly spread awareness globally.
It is important that Dowling recognizes the significance of bullying when assessing the state of the student community. As a College, we are extremely lucky to possess a supportive and understanding administration that caters to the needs of the students. Faculty and staff make it their goal to aid any student that expresses a need. The Personal Assistance Counseling service is a free confidential counseling department on campus for any student who wishes to make an appointment. The Student Government Association allowed the addition of the GSA into their list of supported organization after it was presented in the spring semester of 2010. This club, along with the outstanding support of many faculty members, functions to end discrimination throughout our environment and provide a safe space for all students on campus. The President has dedicated the school semester to Jamey and all suicide victims, making it her goal to launch a campus-wide campaign in the months to come. Every Dowling student should be made aware that organizations exist in their favor to deal with any issue they may be feeling.
Below is a list of contact information for some of the Dowling support facilities. If you would like to get involved in these organizations, feel free to reach out to the noted student leaders. Getting involved is the first step in spreading Suicide Prevention and Anti-Bullying Initiatives throughout our campus.
(631) 244–3455 or 1–800–624–2593 http://www.dowling.edu/studentservices/healthservices/pac.shtm
Melissa Theodorakatos – (631) 660–1596 – mat9@dowling.edu
(:commentbox:)
By Arianna Johnson

Imagine owning a farm that has been passed down for generations, then having it all taken away…
That is exactly what happened to farmer John White. His family's 300-year-old, 57 acre farm is in serious jeopardy of being lost to an oil tycoon from Houston. This whole fiasco came about in an innocent attempt to save his children the headache of having to pay millions of dollars in estate taxes after his death. White had found that one of his cottage renters, Anthony Petrello, could help. Petrello offered to buy 11 acres of the White property for $2 million dollars, in order to alleviate some of the future debt; the deal, however, was not as simple as that. More than a decade has past, and there are still lawsuits being pursued.
John White, 89, is a World War II veteran, a retired Bridgehampton volunteer firefighter, and has worked his family's land, growing potatoes, for as long as he can remember. He has never put a monetary price on the oceanfront farm, setting aside conservation land in Sagaponack strictly for the family, eventually totaling over 90 acres and worth millions. But they have never given into developers, showing how strong their attachment is to the land. Being old-fashioned and thrifty, however, has its costs. Deals made by supposedly honest men and sealed with handshakes, no longer hold up, especially in a court of law.
Petrello, 56, is the president and C.O.O. of Nabors Industries, the largest land-based oil-drilling company in the world. His background story is that of a typical lower-middle-class boy who excelled in math and got a free ride to Yale, only to go onto Harvard Law School. He climbed the ropes, working at Baker & McKenzie in New York, and then at 37 accepted his present position. Being located in Houston came with the job, but Petrello wanted to find a way to come back to his roots. When a friend of his told him about the cottage rental, or "the model," as he refers to it in 1992, he flocked to the beach.
After hearing about White's dilemma, in 1995, they hashed out a deal to subdivide the land that was then appraised at $6 million. The only concern that White had was how large of a house the Petrello's would build; he did not want one of those McMansions on his land. Petrello assured White that they would erect a house about the size of "the model;" however, David Berg, the Petrello's lawyer, confessed that because of the enormous size of their mansion in Texas, it was "silly" for anyone to believe they would build a modest sized home.
When the blueprints were first drawn up by architect, Francis Fleetwood, the house was estimated to be around 4,500 to 7,000 square feet; the final result was 18,000 square feet. By the time the first closing came around in late 2000, land prices had gone through the roof and the farm was being appraised at $32 million. The $2 million Petrello was going to pay for his 9.56 acres was barely going to cover the estate taxes. Due to this problem, plus the fact that the Petrello's wanted a substantial sized house, not only the first, but the second closing was cancelled, to which Petrello responded with a lawsuit.
Since then, ten summers have gone by. The Petrello family received their plot for $2.1 million and the rest of the beach front land went to the Town of Southampton to develop on for $14 million; mere pennies compared to what the Whites could have gotten from the subdivision. But the heartache does not end here; Petrello is suing the White family for 10 years of aggravation and lawyers fees, which totals $4.3 million. Petrello also has a right-of-first refusal clause in the original contract that now gives him the right to the rest of the family's property. Petrello's plan of "grandeur" for his new Sagaponack getaway is to build a two story five-bedroom home with a pool and deck.
"If there's a modern-day Satan, it's Tony," says Chandler Robinson, the builder who reinvaded the Petrello's Houston home. "If you're around him, you see it: he's mean; he's self-centered; he's aggressive… On top of everything, he wants to hurt you." Apparently, the Whites are not the only people Anthony Petrello has done damage to.
(:commentbox:)