By Dr. James O. Tate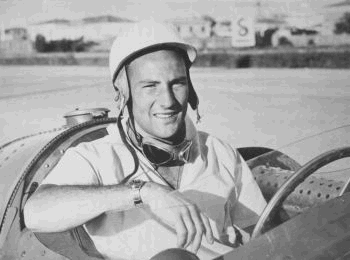 This business of motoring gets a bit oppressive, does it not, what with all the traffic jams and traffic cops and traffic laws and speed-limits and licences and insurance and money out the window, not to mention the dentist's wives who cut you off in their modish BMWs and not to mention so many boring cars themselves—no wonder Detroit has been in trouble, as was noted more than fifty years ago. But for some intrepid souls there is more to cars than all the tedium built into the subject. For though we would be justified for hating cars for many reasons of aesthetic and environmental and social degradation, there is also something insidiously attractive about them as well—particularly cars that are lookers, that are performers, and that are associated with good times, fast times, and fun, fun, fun till your Daddy takes the T-Bird away. Well, we all have our memories, do we not, of moments of inspired naughtiness and getting away with it and maybe even, in moments of youthful bravado, surviving crashes before seatbelts, going off the road backwards, rolling cars over, or getting stuck in a pickup with a hash-smoker and his girlfriend who wanted to show what he could do. He did—he called it driving, I called it crashing, so what was I thinking? I must have been crazy.
But not as crazy as all that, for I learned a long time ago that if you're not an ace like the late Ken Miles or the late Phil Hill or the late Richie Ginther or the early Dan Gurney, then don't try to do what they did. You wouldn't want to have to answer an embarrassing question from the officer if you couldn't honestly answer as was once done, "Ah, yes, actually," and that was in answer to the question, "Who do you think you are—Stirling Moss?" Which reminds me that Sir Stirling is still with us. He doesn't race on public roads—instead, he makes a lot of appearances for his eightieth birthday. Yet to be grateful that he is still with us is to be reminded of some who are not still with us. Or even of one in particular who was a large part of the opposition when Moss earned his reputation and Phil Hill learned the ropes, and who himself knew a thing or two about racing on public roads as well as private ones.
And indeed Stirling Moss once declared decades ago, that of those who are no longer with us, Mike Hawthorn (1929–1959) came to mind first. He mentioned Hawthorn's abilities in both Formula I cars and sports cars, his erratic qualities (a lot of "off" days), his character that was good for the sport, and his image—"He looked the part, didn't he?"
That he did. But if he did so, he did it in a style that was derived from his father, the spiffy Leslie Hawthorn, proprietor of the Tourist Trophy Garage in Farnham, Surrey, he of the Riley Kestrel and the Jaguar XK 120 Fixed Head Coupe and the Lancia Aurelia GT among others; he of the tailored style, charming manner, fiery temper, terrible thirst, eye for the ladies, and aggressive driving. As the only child, John Michael Hawthorn grew up into a split world, for his parents divorced. He could not any more than most people can, integrate his relations to the disparate worlds of his father and his mother, Winifred. The result was that as he drove at 160 and more miles an hour on a routine basis in Argentina and Italy, and chased girls and toured pubs at a somewhat slower pace, he longed to be home with his mother eating dinner off his lap before the telly.
Mike attended good schools but he didn't pay much attention to them. His father wanted him to be prepared to run the TT Garage, but he never really did that. He had others, including his mother, to do that for him. So what did he do? He played a role and he played it to the hilt. His father had played at the role, the sporting enthusiast, the gent with a twinkle in his eye, but the younger Hawthorn took the role over and turned it into a life.
The life as he led it was contradictory and then short. On the one hand, his career was set up by his father, who tweaked and prepped his cars—pre-war Rileys and a Cooper-Bristol Formula 2 car on the track, and a Fiat Topolino, a Lancia Aprilia, and an Alfa Romeo 8C 2300 on the road. But then on the other hand, Mike Hawthorn's early success took him away from his family and his environment, and he was never happy about that. It's rather hard to imagine being miserable in Italy, of all places. He actually missed the pub food and beer of Surrey.
So after his club racing successes of 1950–1 and even his papa-sponsored privateering in the little Cooper-Bristol on the Continent in 1952 (he was fourth in the standings for the first world championship won by Alberto Ascari), by 1953 the young Mike had a contract with Ferrari as a team-mate of Ascari, Giuseppe Farina, and Jose Froilan Gonzales (who is still with us). By then he had completed his image, which included a polka-dot bowtie and a green windbreaker and a blue helmet with a visor. He was the most recognizable of all drivers. He competed effectively and even won, as a blond kid, "The Race of the Century," the French Grand Prix at Reims by one second over the great Juan Manuel Fangio. After the celebration, he fathered an illegitimate child that night—champagne does rather have such effects. And he won other races in 1953, but though his attitude could hardly be damped, the happiest times were already behind him. In 1954 the troubles really began.
There was the crash in Syracuse in which he was badly burned, and not long after the news that Leslie Hawthorn was dead after losing control of his Lancia not far from home. Though Mike won the Grand Prix of Spain, the year was a hard one—he was attacked in Parliament and in the press as a draft dodger and he underwent surgery on his secret kidney disease. He finished the year with a new Lancia Aurelia for himself—a great car to be sure (Fangio and Jean Behra also owned examples) but a sinister choice in the circumstances.
In 1955, Hawthorn quit Ferrari to stay closer to home, won Sebring in a Jaguar D Type, and was racing like hell against Fangio at Le Mans when there erupted the catastrophe of the worst accident in motor racing history, killing more than eighty and injuring seriously another hundred and fifty people. He was never officially blamed for the accident, though he suffered damage to his reputation. Paul Frere's recently published analysis is the best and most convincing comment ever laid down on the notorious matter, and exonerates Hawthorn altogether.
1956 was another bad year, but in 1957 the mood improved. Hawthorn was back at Ferrari where his friend Peter Collins and he clowned, calling each other "Mon Ami Mate" after a joke in a cartoon. Hawthorn and Collins were the victims of Fangio as he won his greatest race at the Nurburgring. But 1958 was going to be something else after four years of dominance by Fangio—the championship was to be contested by Moss and Hawthorn.
There was some trouble at the start of the season as the little rear-engined Cooper won the first two races—it was the shape of things to come. But the year played out as a contest between the front-engined Vanwalls and Ferraris, and between Moss and Hawthorn. When Mike won at Reims again, Moss was second even as Hawthorn backed off, refusing to lap Fangio in his last Formula 1 race. And in this race, Mike's team-mate Luigi Musso died at the fast curve after the pits—the one Hawthorn described as "hairy flatters"—dangerous and flat out.
On to Silverstone for the British Grand Prix: Peter Collins led all the way, with Hawthorn second, and another point for fastest lap. Things were looking up. But at the Nurburgring two weeks later, Mike was following Pete as they chased Tony Brooks, as I saw though the gorgeous distortion of a telephoto lens as rendered in the newspaper thousands of miles away. Collins left the road at the Pflantzgarten curve in Mike's full view— the end of a beautiful friendship. Hawthorn escorted the widow home and thought hard about the future.
He fought on, racking up the second places with the help of Phil Hill, and pipped Moss for the World Driving Championship in Morocco in October. He announced his retirement in December, and on January 22, 1959, on a wet, cold blustery morning, he set off from Farnham, Surrey for London in his hotted-up Jaguar Mark I saloon, the one he called "the Merc-eater." And there was, not coincidentally, a Mercedes-Benz 300 SL driven by Rob Walker to dice with, for some fun along the way. But at a high rate of speed the Jaguar left the road for mysterious reasons and wrapped itself around a tree not far from a hawthorn shrub. One London paper headlined MIKE IS KILLED—the nation knew what that meant. My copy of an American newspaper blared, RETIRED A MONTH, HAWTHORN DIES. I was painfully shocked, as thousands of people were all over the world. And perhaps I learned more than one lesson from that shock.
I had wanted Mike Hawthorn to continue his outrageous and glamorous life, but fate ordained otherwise. Decades later, I discovered that Hawthorn was so sick from kidney disease that he wouldn't have lived much longer anyway. Those who have brilliant gifts pay a price for them—life is tragic. More than three years later, during my senior year in high school, the best student and the noblest character in our class died suddenly from cancer. He was a fellow I had raced with on dirt roads—it was Ford versus Plymouth, and except for me, no one knows to this day who won that private affair. Even so, it seemed to my bewilderment that a price was paid.
I have always remembered my friend Jordan—and the more remote "golden boy," Mike Hawthorn, for decades. And sometimes I have felt alone in doing so. But then I found out I was not alone. In 2005, I was astounded to see in a British magazine, a notice for the sale of the Hawthorn Ferrari, restored, "price on application"— the 212 "Inter" that Enzo Ferrari gave Mike for his personal use on the Continent in 1953. The kicker was that the place of sale was Huntington Station, NY. I was only a couple of million short of competing for the wheels, but I did get a close, and I mean close, visit to a car that had been driven by Hawthorn—and by his father. And to close the circle, Dr. Kevin Jordan of Dowling College was also interested in and visited Autosport Designs, as greatly pleased me.
The fiftieth anniversary of Mike's championship year was followed hard upon by the anniversary of his death. And there were observations: a Mike Hawthorn website, a second biography, a parade of Mike's cars in Farnham, and the announcement of a private Hawthorn museum in England, all of which can be examined through the Internet easily enough. I'm glad to know that Mike still has devoted fans, and that his former fiancée and Peter Collins' widow are still with us. I was grieved to learn that the eighteen-year old son of John Surtees, was killed in a freak accident in a Formula 3 race, in part because just before Hawthorn died, he urged Surtees toward racing on four wheels instead of two. And five years on, the great motorcyclist John Surtees was World Driving Champion for Ferrari himself, yet to pay that cruel price of more than four decades later.
So I am glad that Sir Stirling Moss recently survived and recovered from a fall in his own elevator shaft, at home in London. Does it show that you can't be too careful? Or does it suggest rather something like, "Name your poison"? Some die in fast cars, others slip on the ice on the doorstep. And then there's the old story about John Wyer, who was managing the Ford racing team once at Le Mans in the 1960's. Seeing one of his drivers, Mike Hailwood, come up to him in the dark as the cars whizzed by, he noticed that the guy was carrying a steering wheel. "Is that what fell off?" he asked. "Or is it all that's left?" Glory and death are linked. Achilles had his Homer, Hawthorn had his photographers and ghost writer. The great Achille Varzi, rival of Nuvolari, died on the track to the consternation of all Italy—but to Walter Mitty we can only say, "Drive carefully." So drive carefully.
(:commentbox:)