By Stephen Sullian
November 29, 2010

madisoncountycourier.com
The 2010 Midterm Elections were one of the most talked about subjects of the year. Many pundits, papers and citizens had opinions predicting which way the results would lead our country. It was widely expected that the Republican Party would take at least part of Congress, and that is just what happened. The Democrats retained control of the Senate but lost 6 seats. However, in the House of Representatives, the Democrats lost 60 seats and the majority. It is widely speculated that John Boehner of Ohio, the current Minority Leader, will take Nancy Pelosi's place as the Speaker of the House after a unanimous vote by House Republicans. Nancy Pelosi will still lead the Democrats in the next Congress, as determined by a vote by Hose Democrats.
As for New York in particular, incumbents Kirsten Gillibrand and Charles Schumer retained their Senate seats. Andrew Cuomo defeated Carl Paladino to win the office of Governor of the state. The congressional race was retained by incumbent Steve Israel. Recent polls have shown that young voter turnout fell 60% from the turnout of the 2008 election. This age group was greatly responsible for helping Barack Obama to defeat John McCain. However, this same group was less eager to participate in this year's election (perhaps because this was not a presidential election). Some political analysts believe that had this age bracket voted with the same enthusiasm as they did in 2008, the Democrats might have retained control of Congress. Regardless, the significant drop in voter turnout is alarming, especially looking forward to the 2012 election.
(:commentbox:)
---
Rally to Restore Sanity and/or Fear
By Stephen Sullian
November 8, 2010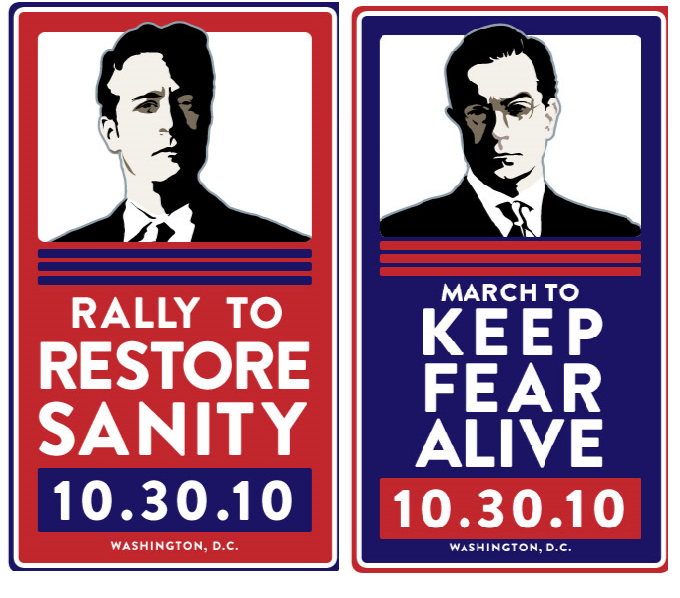 Photo Courtesy planetpov.com
On October 30, 2010, Comedy Central Hosts Jon Stewart and Stephen Colbert held a rally at the National Mall in Washington D.C. titled The Rally to Restore Sanity and/or Fear. The gathering was actually a combination of two previously separate demonstrations. Stewart was behind the Sanity aspect, with Colbert running the Fear part. Early estimates report that well over 215,000 people attended the event, shutting down streets and flooding the D.C. Metro system. The three-hour long event included musical performances, guest appearances, and signs galore.
The previously separate Rally to Restore Sanity was established to attract those individuals who "think shouting is annoying, counterproductive, and terrible for your throat; who feel that the loudest voices shouldn't be the only ones that get heard; and who believe that the only time it's appropriate to draw a Hitler mustache on someone is when that person is actually Hitler." The foil to Stewart's cause, the March to Keep Fear Alive, had more of a satirical purpose (which reflects the comedic style of its founder). The March was based on the idea that "there are dark, optimistic forces trying to take away our Fear — forces with salt and pepper hair and way more Emmys than they need. They want to replace our Fear with reason. But never forget — Reason is just one letter away from Treason. Coincidence? Reasonable people would say it is, but America can't afford to take that chance."
The highlight of the event was the closing speech by Jon Stewart: it was delivered in a sincere manner, contrary to the comedic and light overtone of the previous skits and performances. Stewart remarked, "If we amplify everything, we hear nothing." He went on to create an analogy between the trafficking cars of a highway to everyday Americans, and how we put our differences aside to get to the light at the end of a tunnel. The speech was inspiring, and summed up the purpose and intentions of the Rally. Having attended the Rally myself, I can report that I have taken from this day exactly what Stewart intended. I believe, like much of the crowd that was in attendance does, that our political discourse has become polarized, uncivilized and irrational. This gathering was not about advancing a political agenda, nor was it a counter-protest to Fox News Host Glenn Beck's event. While some of the crowd had signs that displayed anti-Tea Party or anti-Fox sentiment, those were not the reason they attended. They were present to show that the loud minority does not necessarily represent the beliefs of us, the silent majority, and that it is possible have a substantive debate based on rational thought and mutual respect. They were present to fight for the cause to "Restore Sanity."
(:commentbox:)